We have added a new Calendar view option into the plugin. Salesforce records with Date and Date/Time fields can be viewed in Monthly, Weekly and Daily views.
1. Select the text field that would show as the name of the event and the Date or Date Time field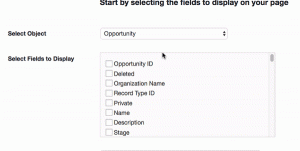 2. Select the Calendar option

3. Arrange with Name of event as first field, this is what would show on the calendar. Set the Date or DateTime as second field. If you want to mention the end date/time of the event, select that as the Third field.

4. Copy and paste the short code to your page to view the calendar